Native American Heritage Month
So much of U.S. history has tried to erase the history of Native Americans, American Indians, and Indigenous people of America. For too long, U.S. history has glorified the European settlers who came to America and has ignored the millions of Indigenous lives lost due to European colonization. Only recently in 2021 did President Biden officially recognize "Columbus Day" as Indigenous People's Day.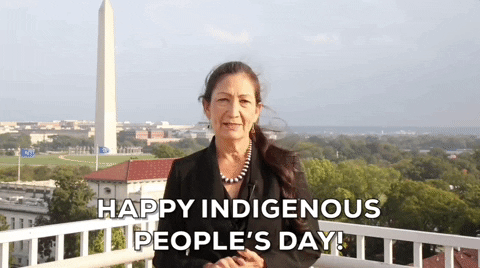 And every November, although many people celebrate Thanksgiving as a day of giving thanks, many Native Americans honor Native ancestors and recognize the struggles of Native people today through a Day of Mourning. So, this November, take the time to really learn the history of this country and reflect on what it means to be accountable to that history. Acknowledge and mourn the tragedies of colonization as well as the continued suffering and erasure many Indigenous people face today.
To that end, start by listening and hearing from a few Native Americans on the challenges they face today:
By listening, learning, acknowledging, and sharing, you can begin to help undo the erasure so many Native American, American Indian, and Indigenous people of America have experienced. We hope you'll take the time to reflect on and honor these communities this month and onwards, and we'd love to help you do so with this collection of resources.
---
🎧 LISTEN
Learn more about current issues and experiences of Native communities through podcasts including This Land hosted by Rebecca Nagle, Let's Talk Native hosted by John Kane, and Coffee With My Ma hosted by kaniehtiio horn.
Celebrate Native music with this collection of Native music curated by Spotify. Also check out music by A Tribe Called Red, Pamyua, and more in this playlist below:
---
🍿 WATCH
We leaned on the guidance of Corinne Rice and her beautifully and carefully curated list of movies to find movie recommendations.
Corinne's recommendations span all different genres, with sports movies like Indian Horse, a movie about a young, Canadian First Nations boy and his experience as a hockey player, and Basketball or Nothing, a docuseries on a basketball team on the Navajo Nation in Arizona. For a closer look into life on reservations, Songs My Brother Taught Me, shows the difficult challenges Native families face today. For comedy lovers, Corinne recommends Smoke Signals, a classic, iconic comedy written, directed, and acted by Natives.
On TV, check out Reservation Dogs is a hilarious show about four Indigenous teenagers in rural Oklahoma looking for a way to escape to California, and Rutherford Falls, comedy about two friends navigating their friendship and loyalty to their families and people.
Here are some clips to help you pick out where to start ✨.
---
📚 READ
If I Ever Get Out of Here by Eric Gansworth is a great place to start. Read about Lewis "Shoe" Blake, a member as he navigates life on the Tuscarora Indian reservation and newfound friendships and challenges.
Other YA novels we love are Killer of Enemies by Joseph Bruchac, Apple in the Middle by Dawn Quigley, and The Marrow Thieves by Cherie Dimaline. Two more mature books that are also great reads are Winter in the Blood by James Welch and There There by Tommy Orange.
Some books that are very helpful in understanding Native history and experiences are Lakota America by Pekka Hamalainen, The Heartbeat of Wounded Knee by David Treuer, and Carry: A Memoir of Survival on Stolen Land by Toni Jensen.
As Wilma Mankiller, an American Cherokee activist, once said,
"Though many non-Native Americans have learned very little about us, over time we have had to learn everything about them. We watch their films, read their literature, worship in their churches, and attend their schools. Every third-grade student in the United States is presented with the concept of Europeans discovering America as a "New World" with fertile soil, abundant gifts of nature, and glorious mountains and rivers. Only the most enlightened teachers will explain that this world certainly wasn't new to the millions of indigenous people who already lived here when Columbus arrived."
This month and onwards, remember that it is your responsibility to continually educate yourself. Use your voice to speak out against racism, against discrimination, and remember that while the journey to progress is long, it's worth it.
Join us as we honor the history and communities of Native Americans, American Indians, and Indigenous people of America, and share with us how you're celebrating and learning.